Lead Retrieval
eShow is pleased to provide on-site lead tracking technology at NSPRA National Seminar 2023. eShow's Lead Retrieval Solution features the eConnect line of lead solutions that will allow you to retrieve contact information without having to collect business cards.
CLICK HERE TO PLACE YOUR ORDER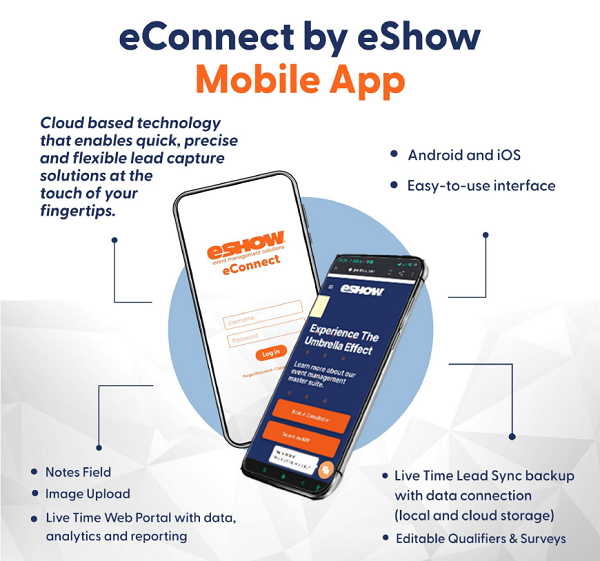 eConnect Products
ADVANCE
through
June 23, 2023
REGULAR
after
June 23, 2023
Lead Retrieval Tools
eConnect by eShow Mobile App
$250
$300
Additional Activations
$100
$125
Questions?
Contact us at
leads@goeshow.com
or 847-620-4499
Terms & Conditions
Mobile App testing is the sole responsibility of the exhibitor. Auto-focus is required to use the scanning feature. If your device does not have auto-focus, the badge ID must be keyed into the app. No refunds or cancellations will be permitted on devices lacking auto-focus.

An activation is needed for each device that will be used to scan. Activations cannot be reused if the app is uninstalled. If the app is uninstalled, the activation is lost and an additional activation will need to be purchased at the exhibitors expense. Activations cannot be transferred to other devices. Do not delete, sign-out, uninstall, or clear the cache of the app.

One week prior to the event, instructions and a sample badge will be sent to the email address provided for testing purposes.
Any refund requests must be submitted via email prior to the July 10, 2023 refund cut-off date. No refunds will be issued after the cut-off date. All refund and cancellation requests will be issued a credit voucher in the amount of the order to be used for any future eShow Lead Retrieval purchase. No refunds or credits will be issued for any unused activations or devices.